Unlock The Cash Equity In Your Land.
Sell Your Land With No Fees, Make The Cash Work For You.
Join many happy land sellers and get a fair no-obligation offer fast PLUS our valuable eBook, a Q&A video interview, and safe closing with a Title Company or mobile notary!
You will receive a quick cash offer for your unwanted land plus you'll get a helpful eBook, a Q&A video interview, and we close safely and securely.
Do You Find Yourself Wondering "How Can I Sell My Land Fast?"
Join Other Happy Sellers, And Don't Let Your Vacant Land Sit Unused
Our typical land sellers are:
If you are asking how to sell land without a realtor, or what is the fastest way to sell the land, we are your answer. Request your no-obligation offer now as hundreds of landowners did before you.
You will receive a quick cash offer for your unwanted land plus you'll get a helpful eBook, a Q&A video interview, and we close safely and securely.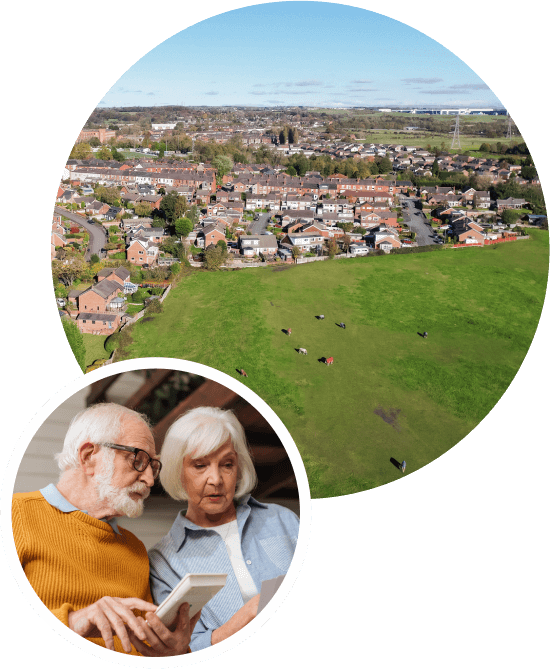 Why Sitting On Vacant Land Could Cost You Thousands In Lost Value
In order to secure fair cash for your land, it's better to sell it sooner than later. Request your no-obligation offer today.

The Instant Life Upgrade: Selling Your Land for a Better Future
You will receive a quick cash offer for your unwanted land plus you'll get a helpful eBook, a Q&A video interview, and we close safely and securely.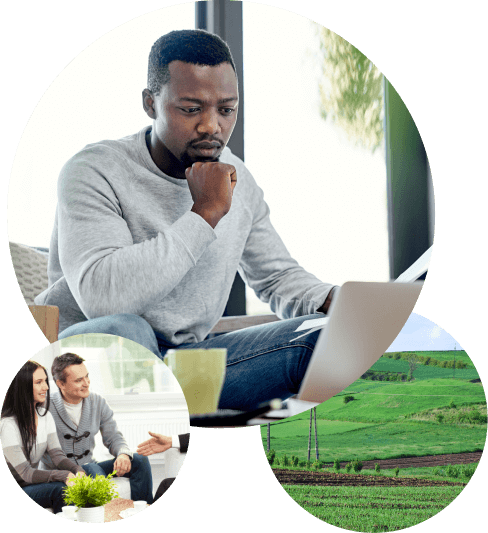 What Do You Need To Consider When Selling Your Vacant Land?
Selling your vacant land without fees is easier than you think. It is all about choosing the right partner to work with. If you keep in mind the following points, you'll be a happy seller:
Selling Land Is Harder Than Selling A House. Let's Compare Apples And Oranges
While houses sell quickly, vacant land typically sits on the market for years and might be difficult to sell if you don't know what you're doing. It is very hard for landowners to do a For Sale By Owner (FSBO) if they aren't aware of the nuances of land.
Discover Your Advantages Of Working With Us
Our seller-focused features set us apart from other companies that buy vacant land and keep our clients happy:
A quick no-obligation offer with data to help you make an informed decision. 
You will get all the information about the best options for your land and your situation.
We will help you solve tricky land problems such as probate or title issues.
No need to wait for months or years for someone to make an offer.
No hard work because we will take care of all legal documents for selling land.
Very fast closing process once everything is cleared.
You will get options to consider what to do with your land and when depending on how much time you have.
You will get an instant solution to help ease the financial burden regarding taxes, liens, or mortgages that may be causing you financial discomfort.
You will receive a quick cash offer for your unwanted land plus you'll get a helpful eBook, a Q&A video interview, and we close safely and securely.
Vacant Land Can Become A Liability Fast!
My grandparents owned land in New Jersey, and when they died, the family decided not to utilize the land, but it was kept for a while due to my grandfather's wishes. However, due to trash being dumped on the vacant lot and other concerns, the land became a liability and was eventually sold.
I recall the land sitting around for a while and instead of gaining in value, it actually deteriorated and decreased in value, and in hindsight, it would have been preferable to sell the land sooner and put the money to better use.
We Have Helped Hundreds And Hundreds Of People In All Different Situations
I am Peter Toth. I created this company in 2017, and we have helped hundreds of people sell their land in a way that is fast, easy, and with low stress. Since the beginning, we've bought countless properties from people that wanted the best solution for selling their property no matter the circumstances. We are also great at solving problems. 
Our mission is to buy unwanted land, make it simple and easy for the seller with a fair cash offer and take on fixing any problems with the land. If you want to work with a true professional land investor who can solve all your land issues and give you fair cash, request your no-obligation offer now.
You will receive a quick cash offer for your unwanted land plus you'll get a helpful eBook, a Q&A video interview, and we close safely and securely.

Say Goodbye To Stress With Our Hassle-Free Process
Get in touch for a no-obligation consultation. Tell us about your land and your goals of selling.
We will review your land and determine what we can offer Fast, Free, and Simple!
Within 72 hours, we will give you an offer in writing. No obligation and we won't hassle you for a fast decision.
We close fast using trusted Title Companies in your area and 3rd party mobile notaries..
Expected Timeframe: The entire process can be done in 10 days or less. Once you contact us, we will have an offer for you within 72 hours. If you accept, we can close in 2 weeks or less!

You Can Schedule A Free Call With Us To Talk More
Do you have more unanswered questions? 
Do you want to talk in detail about your land? 
Have a specific land problem and want to see if we can help?
Get all your questions answered today! Schedule a call with us to turn your land into cash and improve your life.
Our team is here to help. We'll make the process of selling your vacant land easy and stress-free.
You will receive a quick cash offer for your unwanted land plus you'll get a helpful eBook, a Q&A video interview, and we close safely and securely.
Our Guarantees Make It Safe - Enjoy Rewards Without The Risks
Selling Your Land Just Got Better: FREE Extras To Make It Easy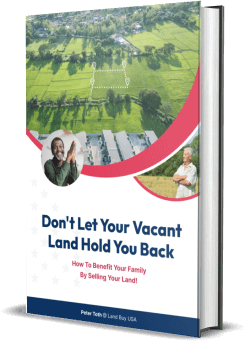 Don't Let Your Vacant Land Hold You Back (How To Benefit Your Family By Selling Your Land!)
This eBook uncovers why selling land is so much more challenging than selling a house. Different land types and their various challenges. And more. Get all your answers by reading this eBook!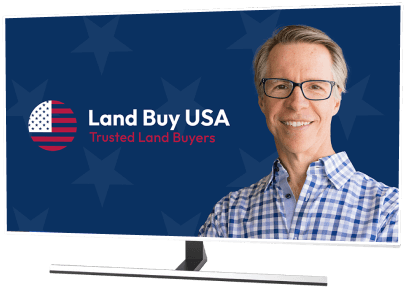 #2: A Q&A Video Interview:
"Moving On From Unwanted Land With Ease"
Helpful and insightful Q&A video interview with Peter Toth, the founder of Land Buy USA about how they help vacant landowners. You'll also discover the tax benefits of selling the land, and much more.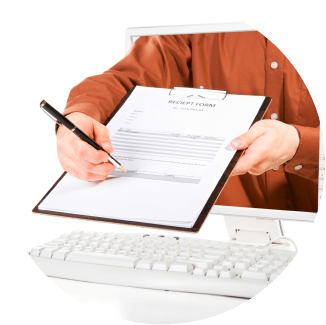 Closing With A Professional Title Company + Mobile Notary!
At closing, we will arrange an e-notary or mobile notary completely FREE of charge to complete the transaction, so you don't even have to leave the comfort of your own home. We will use professional and reliable Attorneys and Title Companies who will handle the  escrow to ensure a safe and secure closing process. All legal paperwork and the fees to cover closing and document filing are covered by us. Costs you nothing to close!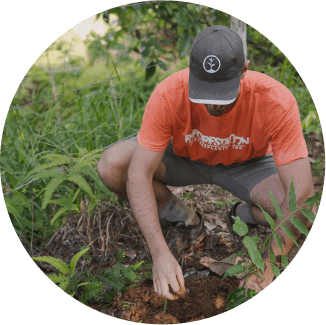 #4: A Charity Donation In Your Name To "One Tree Planted"
Since 2014, they have more than doubled the number of trees planted each year, and are working with partners across 80+ countries in North America, Latin America, Africa, Asia, Europe, and the Pacific. You can be a part of this wonderful movement. After a successful transaction, we will donate to One Tree Planted by planting a grove of trees in your name.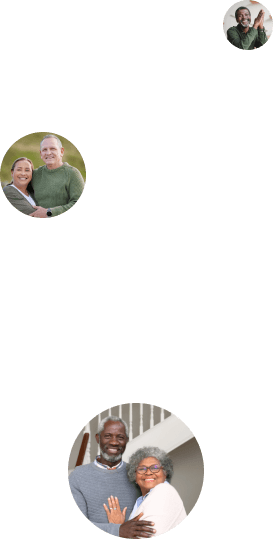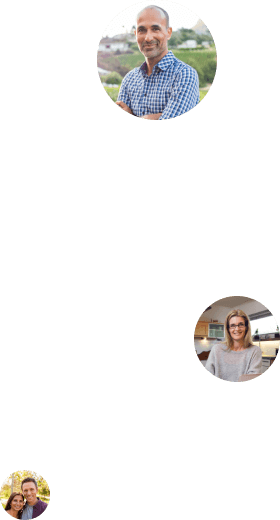 What Do Happy Clients Say About Working With Us?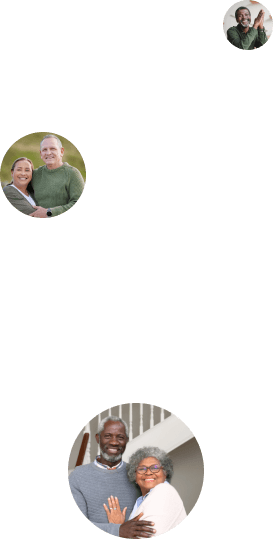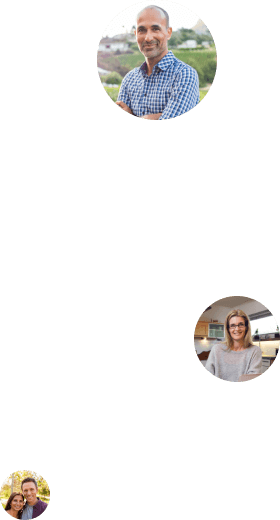 "Peter Toth was absolutely the most knowledgeable, fair, and helpful real estate professional I have ever dealt with. He was understanding and knowledgeable. I truly look forward to working with Peter again, hopefully in the near future. Thank you, Peter. You're the best!"
"Peter is fair, honorable & understanding with his clients and associates. He loves what he does and it shows! I highly recommend."
"Peter is straightforward & knowledgeable. Working with Peter has been a pleasure. He knows the land and is very fair. If you are looking for land, Peter can help!"
"The process is very simple. The call was easy and we closed fast. Highly recommend working with Peter. He even remains in constant contact and is always able to reach after doing your deal."
"This company, and Peter, are wonderful property buyers. Very nice to work with. Honest and legitimate. Great people. We are thrilled with the deal we got from them."
"Peter and his team are honest, fair, and ethical land buyers who give some really nice offers on land. I very much enjoy working with them."
"I would like to inform you that my father received the check today. He is very grateful and appreciative of all the professionalism between both your companies as well as the speedy process. On my side, I would like to thank you Pete as well for the transparency and simplicity in doing business with you. It was a pleasure and I hope we can do business together in the future."

What are Property Owners Asking Before Selling It to Us?

Yes. The prices we pay are fair and a win-win for both parties. We do not pay retail, however, that cost can be made up when you factor in the fact that we charge ZERO in commissions, plus we pick up all associated administrative and closing costs. In addition, we close very quickly because we are paying in cash. This saves you money by shortening the period of time in which you are responsible for taxes, assessments, and maintenance of the property. Remember, the land market is very slow, selling the traditional way, and using a realtor to find a buyer can take months, if not longer. Costs incurred over this time can add up fast. Before binding yourself to a realtor, get our offer and run the numbers for yourself. There is zero obligation.
Our process is very clear and straightforward. We look at what other properties are selling for, and what the market suggests they will do in the future. We take out what was paid in commission and fees on these comparable properties to get a price on which we base our offer. In addition, we calculate the market there is for the land of this type and the amount of marketing resources we'll need to put into the transaction to re-sell your property to an end buyer. Finally is our profit. We earn a fair profit for this service and want you to walk away knowing that you reached your goals. When you get an offer from Land Buy USA, we will fully explain how we have come up with it.
Not a dime. What we offer you is what you will take home.
YES! I Am Ready To Sell My Vacant Land And Unlock The Cash
You're just one step away from being our next happy land seller. Our no-obligation cash offer will give you all the data and information so you can make a fully informed decision:
You'll be free from the land that's causing you stress.
You won't pay another dollar to maintain it, on taxes, fees, or liability insurance.
You'll end up with more money to improve your life.


P.S.: This is for you ONLY if you really want to sell your land quickly without any fees or stress, for a fair cash price. 

P.P.S.: Our spots are limited because we can only purchase a limited amount of properties  every month. Don't get left behind, click on the form to get an offer for your vacant land right away!
Our offer for your unwanted land comes with our valuable eBook and a handy checklist.